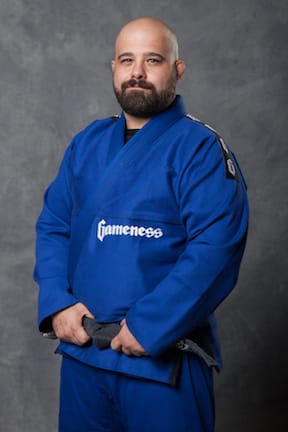 Bruno "Tank" Mendes
Bruno Mendes, more commonly known in the Brazillian Jiu Jitsu world by his nickname "Tank", is one of the leaders and founding members of the Soul Fighters BJJ team. A black belt under Alvaro Mansor, Tank spent several years working behind the scenes of IBJJF competitions before founding his own team with his brother, the world champion Augusto "Tanquinho" Mendes, Leandro Escobar and Rafael Barbosa.
Lineage: Mitsuyo Maeda > Carlos Gracie > Helio Gracie > Francisco Mansor >Alvaro Mansor > Bruno Mendes
Bruno has over 23 years of experience in BJJ, becoming one of the most recognized professors and coaches in the sport of BJJ.
Bruno is a world champion builder, with more than 20 athletes under him achieving the title of world champion but he is also a professor specializing in kids BJJ and kids classes. Bruno has a professor certificate from the IBJJF (International Brazilian Jiu Jitsu Federation) and is the lead professor for Soul Fighters association on IBJJF. His experience also comes from years of being an IBJJF official in world championships and also from working in the IBJJF head office. Bruno also worked as an official of the Rio de Janeiro State federation.
As someone who is very well established and recognized in the industry, an active member of the BJJ community and someone who made and make part of the history of BJJ sport, Bruno is the right person to train under in your BJJ journey.